NJ 6 day gun week. The club I have been hanging with hung 6 nice buck during the 6 day gun week. I took nice 7 pointer and a pine barrens coyote. Lots of deer activity during the week and lots if not most was during the day between 10 am and 2 pm.
10/27/1 First day out hunting the permit bow. My son Mason and I sat in our zone 13 stand. We saw three deer. A spike, and two 8 pointers. The first 8 pointer I missed but the second one was a perfect hit. Deer ran 30 yards.

10/25/13: Zone 18 Colliers Mills doe kill. I took this doe in the Mills.
10/11/2013: Zone 13 8 pointer down. went out in the storm and was able to shoot a nice 8 pointer. This deer was shot with a grim reaper head. Buck ran 40 yards.
09/18/13: Zone 13 earn a buck doe kill. Saw 5 deer in the AM. Took a lone doe.
09/14/13: Opening morning youth kill. Took my 12 YO neighbor out who took a nice doe.
NJ 2012 6 day shotgun buck. Saw three deer all week.

October: Sal takes his first 7 pointer out of zone 21.
September 26 2012. I was able to take a nice North Jersey Earn A Buck Doe. The hunt was captured on video with my new HD camera. 09-29-12 starts regular fall bow with no restriction. This was also the first deer I checked in using the new NJ online deer checking system. All I can say is thank you for such an easy way to get it done. Good luck all. Video the hunt.
December 2011:
I was able to get the kill on video during the NJ 6 day season.
November:

Sal finally lands a keeper buck. Sal put the stinger in this nice permit bow pine buck.
I took I think the biggest buck to date for me. A nice Zone 13 8 pointer, this hunt was captured on video.
October: Mary takes a nice Zone 13 6 pointer.

I too take a nice 6 pointer during the regular fall bow season. No photo yet. This hunt was captured on video.

September early bow: Earn a buck doe down. DMZ 13. This hunt was captured on video.
Summer went by in flash like always. Me and my family were on the mission for that big giant fluke. A 6 pounder was the biggest, a nice one but not the big fluke we had hope to snatch up. We did some fresh water too. Got some nice large mouth and pickerel.

Bill Brown Shot a nice pine 6 pointer during the winter bow season. His hunt was captured on film.

The 2010 NJ shotgun season was outstanding for us. On opening day I took a nice big zone 21 Greenwood Forest 9 pointer. This was one of my target bucks I was looking to harvest. He came in at to the stand at 12:40 pm. It was about a 30 yard shot and down he went. When he showed up I was so pumped I forget to push the record buttons on both of my video cameras. Opening night Bill Brown took a real big pine 6 pointer. Tuesday of the gun season Mary shot a nice Greenwood 7 pointer. Wednesday Bill took his second buck a nice 8 pointer. Thursday night was another great night. The wind calmed down a bit and I was able to slam a nice big fat 6 pointer and Noah slams a GIANT 22 inch wide 8 pointer. Out of these deer two were captured on video.
Cell Phone photo after the shot of the 9 pointer.
This is a photo of Bills Opening night NJ 6 day shotgun 6 pointer. This hunt begins back in 2009 during the permit fall bow season. Bill captures on video a nice 6 pointer coming to a scrape. Bill takes a shot but its a little high in the shoulder but it looks like a sure kill. We searched for this buck for two days and never located him nor the arrow. We had a decent blood trail bout never recovered the buck. Fast forward to the 2010 NJ 6 day shotgun season. Opening night Bill captures on film shooting a nice big fat 6 pointer. When he walks up to the deer he notices a big scare on the deers right shoulder and that the rack surprisingly looks familiar. Well we put two and two together and we assumed it was the same buck from the 2009 permit fall bow hunt. The scare was in the same spot, the rack was the same but a bit larger. When he butchered the buck Bill found what we hoped to find. 6 inches of his broken arrow lodged in the front shoulders between the spine. See below photo. This buck was filmed twice on video being shot and killed once. I cant wait to put this video together with Bill to show our viewers.
Photo of Bills arrow in the buck that got away.

Cell Phone Photo of Marys 7 pointer
The 9 pointer hanging on the pole.

6 pointer hanging on the pole.

Bill with his second buck for the 2010 Shotgun week. This guy tagged Bill out.

He is a hero. Noah Brown with a GIANT State Land buck. He had this buck by him for about 20 minutes before he was able to get a shot. Noah and Bill almost had the buck on video but he was only 6 feet off the ground. This buck dressed 101 pounds and had a 22 inch spread.

11/25/10: Bill Brown takes a nice South Jersey 5 pointer with the bow. This hunt was captured on video.
11/22/10: Noah Brown takes a nice South Jersey 6 pointer with the bow. This hunt was captured on video.
11/20/10: Zack Brown Takes a nice Colliers Mills Y-buck for youth day. This hunt was captured on video.
Cell Phone photo after the shot.

11/05/10: I took this big fat North Jersey Zone 13 6 pointer. I had bigger bucks on the trail camera but I was not sure the next time I would be out so I took it. The buck dressed 125 pounds with a 16 inch wide. This hunt was captured on video.

10/23/10: Jesse took a big fat North Jersey button buck. This is his third deer and this hunt was captured on video.

10/16/10: I went hunting in zone 21 Greenwood State Forest. I was able to miss a nice buck and took a nice doe with the bow. I was able to capture the hunt on video.
10-08-10: Bill Brown took a nice South Jersey pine 8 pointer with his new X-Bow. The shot was captured on video. When he recovered the buck the following morning he found a very large black bear chewing on his deer. The bear consumed 80% of the deer. The bear was aggressive toward Bill and then took off. This footage will be on the next video.

September 23rd. I took this nice North Jersey earn a buck doe. This hunt was captured on video.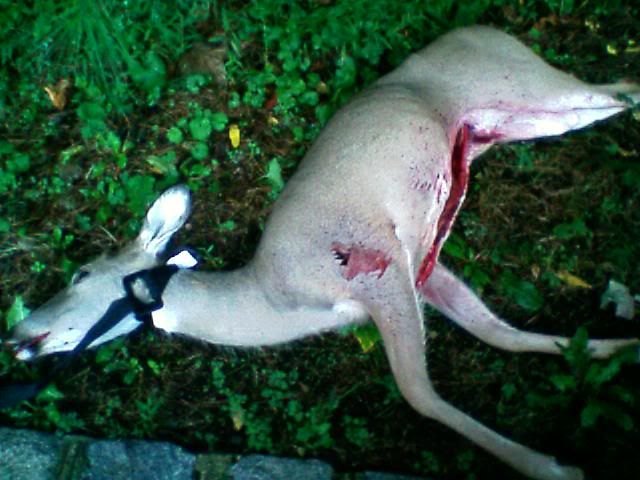 01/29/2010: The brown boy went out and slammed some nice tree rats.
12/24/09: Went out with the black powder rifle. Was able to capture a nice 7 pointer kill in the snow. I had three cams out and was able to capture the kill from the stand and the ground.
12/08/2009: Yesterday was the opening Day of the 2009 NJ 6-day gun season. I spent 11 hours in the tree and it was not fun. The wind was all over the place and saw one deer at 4:30. I got in the stand nice and early and got set up with no problems. Around 8am I have a deer making his way to me. From what I could tell not a big buck, spike or 4 point. He made his was to me and got about 10 yards from the base of the tree. Video cam was going, the wind was right so I decided to fill the tag. BANG 000 buck at close range, AWESOME. 7 inch spike with a good size body. This hunt will be featured on Jersey Whitetail Season II.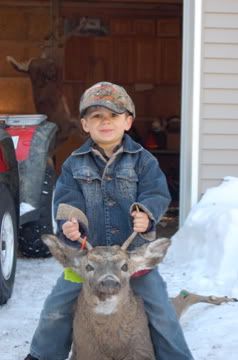 11/23/09: Noah Brown shot a nice big fat button buck in zone 21. Photo coming soon. This hunt will be on Jersey Whitetail Season II.

11/08/2009: On this date Mason and I had gone up to our North Jersey stand. We were set up in the stand at 3:30PM. We had a three camera set up, two on the ground and one in the stand. When the sun started to go down we had a doe and a buck come up the mountain and they stayed off about 100 yard away just browsing. We watched them for a bit and two other buck showed up but they two were also a little far off. The one buck started to make his way toward us. I grunted to the buck with my hunt nut grunt tube and he committed. I thought this buck was going to come up to our left side and before I knew it he was behind us. I took a 20 yard shot and missed. The deer ran out to 45 yard or so and stopped. I took a second shot with my 45 yard pin and dropped the buck in his tracks. We scored a nice 7 pointer for Mason second hunt.
10/29/2009: I went out this evening for a nice fall bow hunt. I have had lots of activity near the stand. The trail cam showed two buck at the stand when i was walking in. It looks like I spooked them off. I got set up at 1 PM. I had three video cameras with me. One on the ground, my main filming camera and a third but no mount for it. At 3 O'clock I had a nice big body buck come up behind me. Just a 5 pointer but a nice rack. He was limping a little bit and was in full rut. He gave me a sweet shot so I decided to take it. I slammed this guy at about 10 yard and he went about 30 and went down for the camera. My ground camera also captured the shot from a second angle. Overall a great hunt for me and I was done at 3 PM. The buck dressed at 149.9 on my Moultire scale. The below photos are from my Hard Drive Video Camera.

10/05/2009: Well Mason and I went out for an afternoon hunt in zone 13. This was Masons first time in a real hunt situation. We got into the stand around 4 PM and saw our first deer at 5 PM. It was one of the nice 5 pointers we have been seeing. We almost had a shot but he walked away. Around 6 PM I had a nice doe come by. I took a nice shot and she didn't go anywhere. We got down on the ground and Mason tracked her up.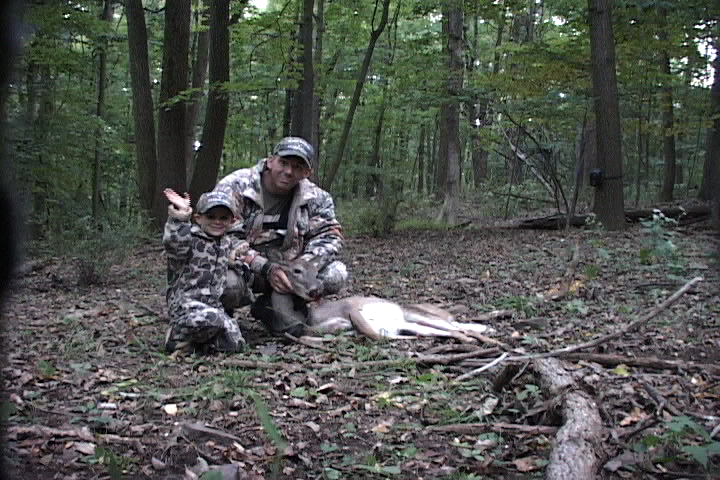 09/26/09: Earn A BUCK doe down. I took this doe out on my first day of the hunt. I captured this doe on video from two angles. One from the tree and one from the ground.